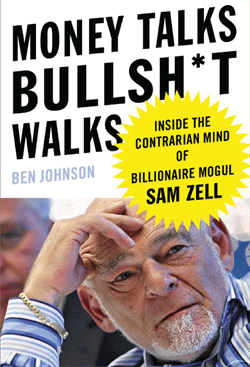 One of my all time heroes of real estate,Sam Zell, celebrates his 70th birthday today! Happy birthday to a man who proves that investment savvy is acquired, not born.
Zell made his reputation as a visionary real estate investor in the late 1980's and early 1990's when he and partner Robert Lurie used their Equity Group Investments to acquire billions in distressed properties resulting from the S&L crisis.
Zell gave himself the sobriquet of "Gravedancer" as an apt description of his investment philosophy of buying assets at deep discounts from heavily distressed owners. His operations grew in scope and scale and changed the face of the REIT industry.
The high point of his career (so far, it ain't over yet by a long shot!) was the sale of Equity Office properties (EOP), the nation's largest office building owner, to Blackstone Group in 2007 for $39 billion, a deal that marked the peak of the real estate boom of the last decade.
Zell is #66 on the Forbes 400, a self-made billionaire with net worth estimated at $4.7 billion. He is co-founder and Chairman of Equity International, a private investment firm that focuses on real estate-related companies outside of the U.S. In addition, Zell maintains substantial interests in, and is the Chairman of, a number of public companies listed on the New York Stock Exchange, including: Equity Residential (EQR), the largest apartment REIT; Equity LifeStyle Properties (ELS).
The image above is from the cover of the recent Zell biography. To my knowledge this is the only published biography of Zell. As a book review, IMO it's a "good start". The author spends way too much time (half the book) on the controversial purchase of the Tribune Company, which in the big picture of Zell's career was and is a small footnote. I'm still waiting for the definitive work on the life and career of a master dealmaker. However, the title – Money Talks, Bullshit Walks– perfectly captures Zell's trademark irreverence and salty speech. (He's been known to loft f-bombs like confetti, which did not endear him to the Trib's journalism cognoscenti.)
Vivat gravis saltator! (Long live the Gravedancer!)